Jen's takeaways:
With already historically low inventory, plus decline in new construction, plus fewer homeowners putting their home on the market, Chicago properties are selling at record paces
Homes values are increasing and with inventory this low, it's a true seller's market
What you can do:
Thinking of trading up, and curious to know your homes market value? Ask me for a complimentary pricing analysis of your property
Consider what home upgrades are worth their ROI, and which are best left to buyers
Discuss your timing and financing options with my preferred lenders to assess the best route to buy your next home, so you can quickly and seamlessly sell your current house without hiccups
---
This article originally appeared in Chicago Agent Magazine.
April 25, 2018 – This March, the market saw an increase of 8.9 percent in median sales price from a year ago, achieving the highest rise in price in over four years, according to Redfin. The median home sale price in March was $297,000 in the 174 markets that Redfin tracks. 
Small inventory, price increases mixed with a strong buyer demand makes for a highly competitive market. Homes for sale decreased 11.9 percent year-over-year and sales decreased 3.7 percent during the same time. While the number of homes newly listed for sale in March fell 5.6 percent compared to a year ago suggesting a decline in seller enthusiasm, the typical home went under contract in 43 days, eight days faster than any March on record.
"Sellers are slow to list this year and we aren't seeing enough new construction homes to fill the gap," said Nela Richardson, Redfin chief economist. "If we don't see the new listings number turn around next month or a pickup in new housing starts, inventory will be a persistent drag on sales for the remainder of the year."
Homes last month sold 23.9 percent above their listing price, increasing from 22.3 percent in March of 2017. One in five homes that sold in March went under contract within two weeks hitting the market, compared to 18.4 percent last year. 
In Chicago, the median home sale price rose to $240,000, a 6.7 percent increase in price since last year.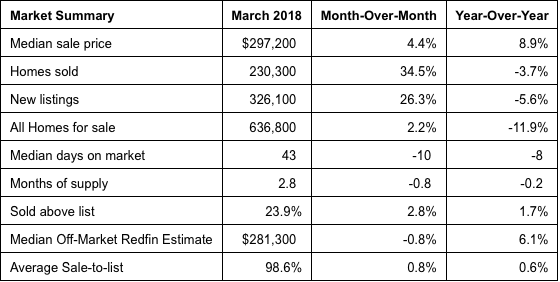 h/t Chase Conner for Chicago Agent Magazine
Related article: Seller profits hit 10-year high